© 2011 Harmony Water
Contact: Harmony Water 845-338-4443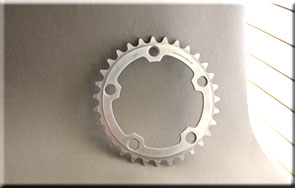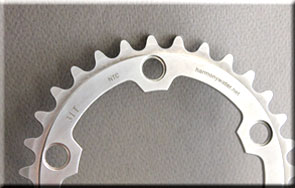 31 Tooth Chain Ring for 1980's Campagnolo Record Triple Chainwheel Set!
Strong and beautiful Aluminum 7075 lower front sprocket chain ring. Changes the Campagnolo Triple Crank 54/46/36 to 54/46/31. Nice for climbing those steep grade mountain roads. CNC machining gives a perfect cut to the teeth and 5 hole placement. Has recessed bolt sockets and is a perfect fit to the vintage Campagnolo touring road bike.
Campagnolo didn't make a 31, but you can now enjoy the help on those steep rides.
Price$155.00
(in stock)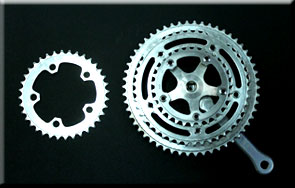 $6.00 Shipping
Machined in New York State by NTC
36 tooth ring comes off (left), 31 tooth ring bolts right on!
Note: Original 1980's Campagnolo Chainring fitted during manufacture. Reference from 1982 Campagnolo Catalogue Road Special Chainwheel, pg 30.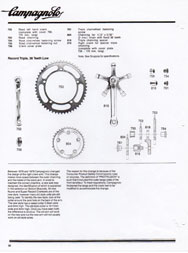 Click on image to enlarge