© 2011 Harmony Water
Contact: Harmony Water 845-338-4443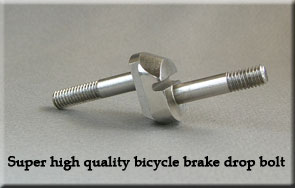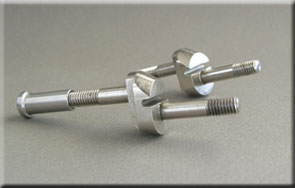 BICYCLE DROP BOLT
SPECS:
Spindle through bike bridge = 28.5 mm (15.8 mm threaded)
Spindle through brake calipers = 26mm (7.5mm threaded)
Absolutely beautiful chromoly Drop Bolt for front and rear brakes. They work with all typical 6mm brake bolts, such as Campagnolo, Shimano (Dura Ace) and Weinmann brakes. This drop bolt adds 1/4" (6.35 mm) to the reach of road brakes. The steel is the best 41-40 chromolly, lathe turned single piece, chrome plated for beauty and protection against salt air.
Price$75.00
(in stock)
BICYCLE DROP BOLT/ PAIR
The front Drop Bolt uses a shouldered extender nut for securing it to the fork.
PricePair $158.00 with extender nut.
(in stock)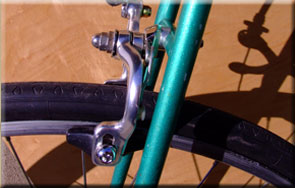 $4.00 Shipping
$7.00 Shipping
Super high quality
One pair extended threaded length available- $168
Email for purchase.