© 2011 Harmony Water
Contact: Harmony Water 845-338-4443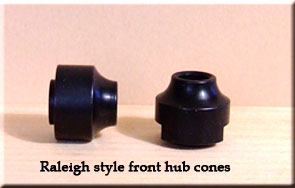 Raleigh style front axle cones
Beautifully reproduced in a hardened steel. These cones fit older Raleigh 3 and 5 speed bicycles from the 1960's, 70's and 80's. Both have the Raleigh shoulder for the fork to sit on. The left hand cone has the flats for cone wrench adjusting. Threaded to fit the Raleigh axle. Heat treated and black oxide coated.
Price: Currently Unavailable

Often when I tear down a front wheel on a Raleigh bicycle I find the cones are damaged. It seems that Raleigh, in their quest for production at a lower cost, used less than perfect steel for these cones. I decided to use a harder steel for longer life of these cones.
The threads are single point lathe turned for precise fit to the older Raleigh threaded axle.
Please email harmony@harmonywater.net to purchase these cones and get a smoother ride on that old bicycle.